Advertisement:
Google Talk (GTalk) Profile Field
Mod Name:

Created By:

Branko.

Type:

Profile

First Created:

January 19, 2009, 04:09:10 PM

Last Modified:

January 11, 2014, 11:26:46 AM

Latest Version:

1.1

Compatible With:

2.0 Beta 4, 2.0 RC1

Total Downloads:

4283
Description:
Google Talk (GTalk) Profile Field
by X3mE, version 1.1
---
---
Description
---
This modification will add the
GTalk
field to your profile, and make SMF treat it the same way as all the other messaging fields, thus showing it wherever it shows some of them.
This is for 2.x versions of SMF only. There will be no version for 1.1.x, as there are a few similar already.
Screenshot
---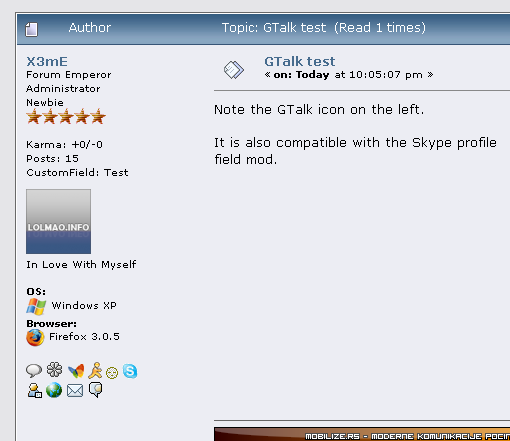 Live Demo:
http://x3me.iz.rs/index.php?board=3.0
Changelog
---
* Version 1.1 (05. 02. 2009.)
- Updated for SMF 2.0 RC1
- Swedish translation added (thanks Nas)
* Version 1.0 (19. 01. 2009.)
- Initial version for SMF 2.0 Beta 4
Installation & Notes
---
Just upload and install the modification. No pre-requisites needed.
If you wish to disable it or show in on the registration page, you can do so from the Admin panel: Admin - Features and Options - Profile Fields
Please post all your support questions and comments in the
support thread
. You can also use the
Issue Tracker
on the
Demo Website
.
Languages
---
Languages included:
- English (english, english-utf8)
- Serbian (serbian, serbian-utf8, serbian-utf8-lat)
- Swedish (swedish, swedish-utf8)
To translate it to your own language, add the translation for:
$txt['gtalk'] = 'Google Talk';
$txt['your_gtalk'] = 'This is your GTalk address.';
in the appropriate Modifications.language.php file. You are welcome to post your translations in the
support topic
.
Donations
---
If you like this mod, please donate to support its further development. Any amount would be highly appreciated. Thank you.