Advertisement:
Group Color in Posts and Profile
Mod Name:

Created By:

gamerzworld

Type:

Theme Enhancements

First Created:

July 29, 2010, 09:06:05 PM

Last Modified:

February 11, 2012, 03:43:41 AM

Latest Version:

1.4

Compatible With:

2.0 RC5, 2.0.2

Total Downloads:

5691
Description:
Group Color in Posts and Profile
Version: 1.4
For SMF 2.0.2
By AJ Collins
aj@gzwn.net
This mod will add a group's color to the group name in posts and on profiles. You can change the color for each group in the membergroups section of the admin panel.
How it'll look
In a post:
In a profile: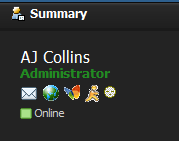 Install
For most themes, install should go fine if the theme doesn't have a custom Profile.template and a Display.template. If your theme does contain custom versions of these files,
either try SMF's "Install in Other Themes" option or look at the modification file and try to edit the files yourself.
History
1.4 - Official support for 2.0.2 and fixed "group_color" error.
1.3 - Added support for RC5.
1.2 - Fixed SMF trying to get a group color for messages posted by guests which caused an error in the error log.
1.1 - Added color support for posting groups.
1.0 - Initial Release.