Advertisement:
FlashChat Integration
Mod Name:

Created By:

Joey Smith™

Type:

Chat/Shoutboxes

First Created:

January 04, 2007, 09:59:43 PM

Last Modified:

January 28, 2014, 01:18:22 PM

Latest Version:

2.1

Compatible With:

1.1.1, 1.1.2, 1.1.3, 1.1.10, 2.0 RC1, 2.0 RC1.2

Total Downloads:

53919
Description:
FlashChat Integration
Original mod by Daniel15
This mod will seamlessly integrate FlashChat into your SMF installation. It adds a 'Chat' link to the top menu, and users that are logged in to the chat appear under
Users Online
as "Users currently in chat" (and optionally at the top of the forum). This mod also fixes a small bug in FlashChat
.
---
Version 2.1.1 released by Tyrsson
Important!!!
Version 2.1.1 is for SMF 2.0RC1-2.0RC1.2 and flashchat 4.7.12
ONLY
To install the 2.1.1 version you will need to update your flashchat files with those found at the following link before installing flashchat!!
http://forum.tufat.com/showthread.php?t=56996
After updating your flashchat files for integration with SMF 2.0 install flashchat as per tufat's instructions for integration with SMF and then simply install the 2.1 version of the mod via the package manager.
v2.1 Change Log

*Added support for chat to open within the forum.
*Chat window size is set by going to Admincp>Modifications>FlashChat.
*Support for displaying number of users in chat in the menu tab.
*Support for displaying users in chat in the user info area of the forum index next to user avatar

---
If you
are
using the Googlebot and Spiders mod, use the "FlashChatSMF_1-0a_Googlebot.zip" package. Otherwise, use the "FlashChatSMF_1-0a.zip" package.
Updates
Version 1.0a released!
The only change in this release is a fix for the problems that people were experiencing with integrating SMF into Coppermine and other systems. If the FlashChat integration is working fine for you, you do
not
need to upgrade. Otherwise, please
uninstall
your current FlashChat integration mod before installing this new one.
Version 1.0 released!
Note that if you had version 0.1 installed, you will NEED to uninstall it before installing the new version!
Screenshots of it in action
The main chat window (click for larger view):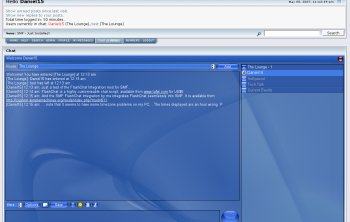 ---
Settings: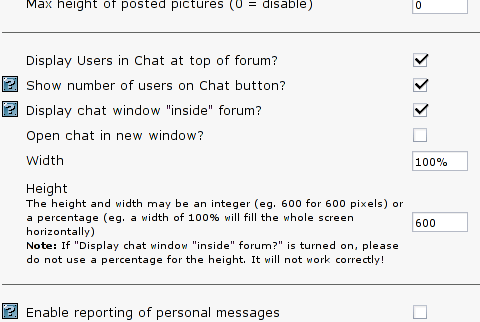 ---
"Users Online" display: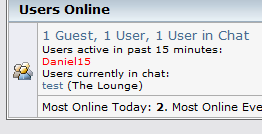 ---
Prerequisites
You must have already purchased and installed FlashChat into the chat directory (as per the instructions for integrating with SMF), and it must be working. Also note that you do not need to edit the Themes/default/index.template.php file to add a button (like the instructions say to), as this mod does that automatically.
FlashChat can be purchased from http://www.tufat.com/s_flash_chat_chatroom.htm
Support
Support for this mod is given in my forum, at
My Site
Note that I do not provide support for FlashChat, that is up to http://www.tufat.com/! I just provide support for this mod.
Theme Changes
Please see
Flash Chat theme support
for the theme changes required to support this mod.
Changelog
1.1
-----------
Fixed problem with integrations (eg. Coppermine, Joomla). This should also fix the "Internal Server Error" messages.
1.0 (Final)
-----------
Several new features:

Option to open chat in new window.
Option to show chat seperate from forum (full-page), like standard FlashChat.
Option to show users in chat at top of forum.
Option to show number of users in chat on chat button (eg. "Chat [2 Users]").

A few very minor bugs (including the "logout bug") fixed
0.1 Beta
--------
Initial release (beta!)
(c) 2007 Daniel15.