Advertisement:
Enhanced Calendar
Mod Name:

Created By:

Daniel15

Type:

Feature Enhancement

First Created:

January 29, 2007, 11:53:34 PM

Last Modified:

August 06, 2007, 02:48:11 AM

Latest Version:

1.0

Compatible With:

1.1.1, 1.1.2, 1.1.3

Total Downloads:

44077
Description:
I am no longer developing this mod, and am looking for someone else to continue its development. Please PM me if you're interested.

This mod will enhance the display of your calendar
Screenshot (click for large version):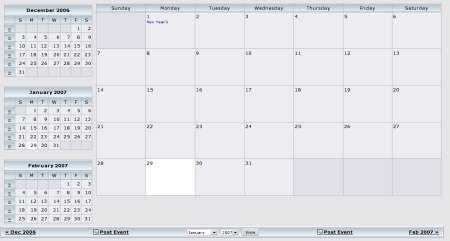 This mod is based on code from JayBachatero.

Changelog
Version 1.1
- Fixed slight bug with non-English languages being incorrectly displayed (reported by Achilles991, fix by JayBachatero)

Version 1.0
- Initial release.