Advertisement:
Increase/Decrease Postbox Size
Mod Name:

Created By:

Daniel15

Type:

Posting

First Created:

January 30, 2007, 04:32:18 AM

Last Modified:

August 06, 2007, 02:48:45 AM

Latest Version:

1.0

Compatible With:

1.1.1, 1.1.2, 1.1.3

Total Downloads:

33808
Description:
This mod will add - and + buttons to the bottom of the postbox, to increase or decrease the size. This affects the New Topic and Reply pages, as well as the Quick Reply box.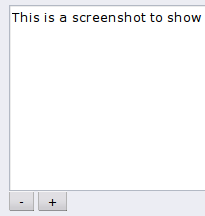 Also, a new setting will be added to the "Posts and Topics" section of the admin panel, which will allow you to change the amount of rows the buttons add/remove.

This has been tested in both Opera and Firefox... Please tell me if it works on other browsers


Languages Available (all included in the package)

Please PM me if you translate this mod to another language
Changelog
Version 1.0
- Initial release.