Advertisement:
SMFBlog
Mod Name:

Created By:

SMFHacks.com Team

Type:

New Feature

First Created:

May 11, 2007, 07:44:44 AM

Last Modified:

November 20, 2017, 08:19:31 PM

Latest Version:

1.0

Compatible With:

1.1.14, 1.1.15, 1.1.16, 1.1.17, 1.1.18, 1.1.19, 1.1.20, 1.1.21, 2.0, 2.0.8, 2.0.9, 2.0.10, 2.0.11, 2.0.12, 2.0.13, 2.0.14, 2.0.15

Total Downloads:

51448
Description:
SMFBlog: A (very) simple SMF blogging system
---
Introduction
SMFBlog is an extremely simple blogging system for SMF. Certain boards can be marked as "blog boards", and these boards will all be listed on the main blog page. Blog posts are topics in these boards, and comments are replies to these topics.
Warning!
This mod is still
beta
. In short, this means that it may still have bugs in it. Please report
any
bugs you find, no matter how trivial (I even consider things like incorrect grammar in code comments as a bug
).
Installation
Simply install the SMFBlog package
In order to use the pretty URLs, you'll need to rename htaccess.txt to .htaccess (yes, that's a dot as the first character). If you already have a .htaccess file, copy the entire contents of the htaccess.txt file to the end of it.
How do I use this mod?
Using this mod is extremely simple!
Firstly, specify one (or more) boards to be blog boards. This is done by editing the board, and ticking the "
Use this board as a blog?
" option. You may add some new boards for this purpose
---

---
Once this is done, start posting new topics in that board!
---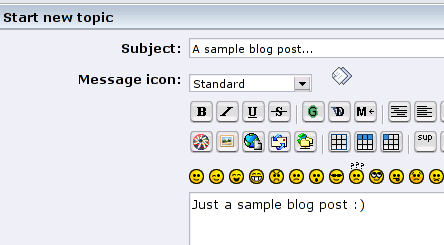 ---
Any topics in this board will appear in the blog
---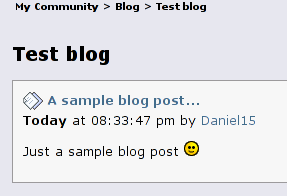 ---
Customisation
Most of the CSS styles used by this mod are in the Themes/default/blog.css file. To change how stuff in your blog is displayed, edit the styles in this file. Additionally, if you'd like to customise more, this blog uses the Themes/default/Blog.template.php template.
Languages Supported
Before you request a crazy feature addition...
... please remember that this is a
simple
blog. I will not be adding any complex features to it, instead opting to keep it as simple as possible
.
Changelog
1.0
- Added pagination to the "View Blog" page.
- When you preview a reply, go back to the blog once the reply is posted.
- Option to hide blog boards from board index..
Note: If you choose this option, the boards will be hidden from EVERYONE, including the blog owner. I suggest to bookmark the link to the board before enabling it!
- Some minor bug fixes
0.1 Beta
--------
Initial public release (beta!).